The Minnesota Vikings offensive line struggles are long and well documented. Despite major improvement last year with the additions of tackles Riley Reiff and Mike Remmers in free agency last season and center Pat Elflein in the last draft, the offensive line has remained the Vikings consensus top need among fans and analysts. Everyone has their favorite match for the Vikings, whether it be Isaiah Wynn or Billy Price. Perhaps the most overlooked has been former Texas Longhorns star Connor Williams and his tackle flexibility.
Connor Williams Is a Match for the Minnesota Vikings
Most consider guard to be the position the Vikings are mostly like to attack early in the draft. Holding the 30th overall pick, prospects like Quenton Nelson and Wynn will most likely be long gone. Falling down draft boards after a knee injury, Williams is a true technician who could be a steal in the late-first or early second round.
Provides the Vikings with Options
Targeting Williams would give the Vikings flexibility on draft night and on the field. After a lingering knee injury caused a (minor) dip in his play, Williams should be available at the end of round one. Additionally, he could last even longer due to being undersized for a modern NFL left tackle. If he does fall, the Vikings would be in a prime position to trade down and still draft Williams early in the second round.
Although Williams is exceedingly light and has short arms, he still has position flexibility. His athleticism, explosiveness, technique, and nastiness allowed him to excel as a left tackle at Texas. William's athletic profile actually compares favorably to former Carolina Panthers left tackle Jordan Gross and Atlanta Falcons left tackle Jake Matthews. If needed, Williams could step into either tackle spot for the Vikings or slide inside to guard.

More than an Athlete
As mentioned above, Williams is not just an athletic yet undersized lineman. Williams brings technique, off-field leadership, and on-field nastiness to stick in the NFL. (Williams is 55 in white below.)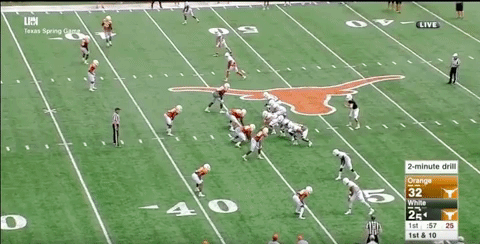 In Williams, the Vikings would have a lineman with excellent lateral movement, hand placement, and processing skills. Known as a leader off the field and a fit in the Vikings zone blocking scheme, Williams could be the next piece in a new-age nasty and athletic Minnesota Moving Company.
Concerns with Williams
As with all players in the draft, Williams is not a perfect player. His lack of prototypical size may cause some to pigeon-hole him into a guard role. Additionally, his decline in play following injury is also a major concern.
Still, it is important to keep those concerns in perspective. Although Williams does not bring the same combination of ballerina feet, power forward size, and sumo wrestler strength to the tackle position as a player like Bryant McKinnie, the Vikings would have the flexibility of testing him at tackle with the insurance of Reiff and Remmers before moving him to a position he has never played at guard. Further, the limitations he showed post-injury have largely been overblown. He was still one of the country's top tackles during his supposed slump. The difference between Williams returning to his pre-injury form or not seems to be the difference between a plug-and-play starter with some upside and a potential pro-bowl bookend for an offensive line. While any team would prefer the later, the Vikings would be foolish to scoff at the former.
Getting Williams to Minnesota
The Vikings are in a prime position to select Williams at pick 30 or even early in the second round. As many as six quarterbacks are expected to be drafted at some point in the first round. Not only will this push talented players like Williams down, it will also mean there could be strong trade down options for the Vikings. If a player like Mason Rudolph slips, the Vikings could drop down a few slots and still nab Williams.
Currently, names like Nelson, Wynn, Mike McGlinchey, Will Hernandez, and James Daniels are receiving attention. Because of this, Minnesota Vikings could be in a perfect situation to snatch Williams, a day one starter with potential to be molded into something greater.
Main photo:
Embed from Getty Images